'My dream is to teach Swedes about Japanese food'
2016-04-15
« Back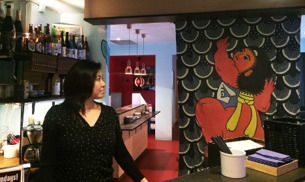 Swedes are quicker than most to jump on new food trends and explore international cuisine. But as many expats know, what counts as 'Chinese' in Stockholm is not always the same as in China, the Italian prosecco on sale at Systembolaget would make your northern Italian family back home wince, and Swedish tacos don't even come close to Mexican.

"And there's more to Japanese food than sushi," exclaims Tomoko Hayashi when The Local meets her at Blue Light Yokohama, the restaurant where she works in Stockholm's trendy Södermalm hipster district.

The 43-year-old moved to Sweden five years ago and is a woman on a mission. She wants to make Swedes love Japanese food – the one she remembers eating back home in Tokyo – as much as she does, and teach the restaurant's diners to appreciate all its different flavours and intricacies.

"Our concept is 'eat like Japanese people'. That's why we don't have avocado sushi, but we do get customers coming in and asking 'why don't you have avocado sushi, all other sushi restaurants have that'?" she laughs, before quickly adding with a smile: "But we do still have other kinds of sushi!"

"But many Swedes are getting more interested in Japanese food, so maybe it's time to introduce other Japanese food too?"

Hayashi first started working at the Blue Light Yokohama as a chef and recently launched her own catering division of the restaurant, providing packed lunches in the style of Japanese bento boxes for busy Stockholmers.

"When I moved here and wanted to eat lunch out I could only find salads or sandwiches. But in Japanese supermarkets you get many different kinds of bento boxes. Look, we've got yakiniku – that's beef in a homemade sauce – chicken cutlets, salmon," she says, rattling off the extensive menu while flicking through its pages.

Hayashi, who used to work as an actress back home in Tokyo, is driven by the urge to discover new things. When she first left the Japanese capital it was to escape the stress of the city and she travelled to Mexico to volunteer in the countryside, ending up in a small mountain village of some 70 residents.

"Only women lived there, because the men had gone to find work in the US. We didn't have electricity, gas, supermarket – if you wanted to eat chicken you had to kill it yourself," she says.

"It got too quiet, so I moved to Mexico City and worked there as a travel operator for a while. But after two years I couldn't stand it, because that's obviously also a pretty big city," she smiles.

It was at this point Hayashi began to seriously think about what she wanted to do in the future and realized she could turn her passion for food into a career path.

"I always used to invite my friends over and cook and we would have fun – and I thought it would be perfect for me if this party was a business. In my memories, I'm always very happy when I eat or drink with friends. And today, when I cook, if I can make the customers smile, I'm really happy."

She first moved to Umeå in northern Sweden, where she had landed a job at a Japanese restaurant, but her plans hit a snag when it shut down after just three months. However, by then Hayashi had already fallen in love with Stockholm, so she packed her bags again and headed to the Swedish capital.

"Swedish life is pretty close to Japanese life in the sense that it is very organized. But life is slower here, it's not a big city, I love the view of Gamla Stan [The Old Town] and the water is tasty."

She says that one of her first culture shocks was when her Japanese tradition of sharing clashed with Swedish individualism – shocking her Swedish friend when she tried to eat from her plate in a restaurant.

"I asked her 'we don't share?' and she was really surprised. Japanese people love hot-pots, one big pot where you all share. But I've learned now that Swedes don't share food, not even if they're in tapas bars," laughs Hayashi.

Hayashi is a fan of trying new international food and eats out as much as she can, constantly seeking more inspiration for her catering business. It is clear that food is something she takes very seriously.

"To make sushi rice, we'll put sake or honey in the rice. You don't just put it in the pot and boil it. It's like science, five minutes less or five minutes more makes a big difference," she explains.

But as devoted as she is to her current job, she continues to always keep one eye on the horizon.

"Stockholm is very safe – not like Mexico City where my parents worried about me all the time – but actually I do need a bit more sunshine. Maybe in the future I want more adventure, maybe a country somewhere south of here, where I can live next to the ocean so it's easy to get fresh fish," she says.

"Someday in the future, I would love to own my own restaurant. But first, I would love to make genuine Japanese food known to people in Stockholm. This is a dream for the present."

Published: http://www.thelocal.se/jobs/article/my-dream-is-to-teach-swedes-about-japanese-food