Which Country Should You Move To In 2016?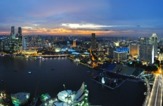 For many expats, the country that they live in isn't exactly one they picked off a map – they were simply brought there by circumstances. Living and working in a new country is often the result of a job posting from within the organization you already work for, or else it's a new job that you've chosen to take due to a lack of satisfying career opportunities in your line of work back home.

However, there are also many expats who are fortunate enough to be able to choose exactly where in the world they want to live, based on whichever factors they decide are important to them. Some of these people are in careers that offer a wide range of opportunities around the world; others have the financial power to make such choices; and still others have the flexibility in their careers and lives to simply pick a place and then make it work. Read the rest of the article from ExpatsFocus.com here...